Have you ever canceled a camping trip due to a rain forecast? Do you now fear rain ruining your camping plans? Don't worry. We have compiled a list of tips on what to do when camping in the rain.
You don't need to cancel your plans or let the rain ruin your camping trip. Prepare yourself and pack all essential rain gear; you are good to go. There are many activities to make your camping in rainy weather fun, instead of hiking and other traditional camping activities.
Whether it is your first camping trip or not, this post will help you learn some quick tips for a successful camping trip when rain strikes.
Tips for What to Do When Camping in the Rain
1. Check the Weather Forecast
Whether camping in summer or winter, it is important to check the weather forecast for the day to avoid unfavorable weather. A weather app can help you decide whether you want to postpone, cancel, or continue the trip. Checking the weather can help you prepare for uncertain conditions and make the necessary gear.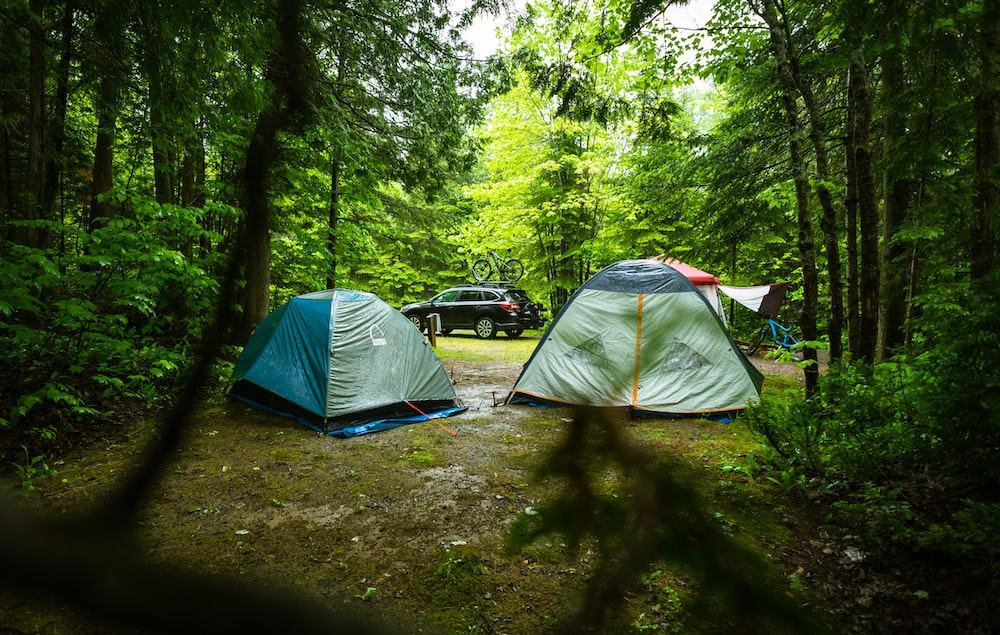 Keep checking updates, as the weather is unpredictable and might have changed from the last time you checked. If you want to avoid rain, you can opt-out if the weather app shows rain. However, if you go camping, regardless of the weather, it is important to go prepared to avoid it.
Though the weather forecast shows sunny weather, you should still carry your rain gear. The wind in high-altitude areas changes quickly, and you might experience unexpected rain.
2. Prepare for the Weather
It is essential to pack weather-appropriate camping gear, but keeping gear for rainy weather is crucial. Rain might make your camping miserable, but with the right camping gear, you can prevent it from ruining the trip. Here is a list of essential gear for camping in the rain:
Waterproof tents
Waterproof sleeping bags
Waterproof pillows
Tarps, poles, ropes, and stakes
Plastic bags
Trash bags
Insulated water bottles
Camp stove
Umbrellas
Poncho
Rain jackets and rain boots
Waterproof backpack cover
Cold weather clothes (gloves, hats, socks, mufflers)
Extra blankets
3. Find the Best Tent Site
Camping in the rain has its disadvantages. But with an appropriate campsite, you can lessen the effect of rain on your trip. Set up your tent on an alleviated ground so the rainwater can flow down the campsite. Moreover, puddles form easily on flat surfaces. So, setting your camp on a slightly sloped surface is best to avoid waking up in a puddle of water.
Camping by the river is tempting. It involves waking up to the sound of flowing water and taking a quick swim. However, heavy rain affects the water flow and flashes water. It is best to avoid camping beside a river or any water bodies to prevent unfavorable situations.
A great way is to tent between trees. Trees act as a shield against rain and protect your tent from drenching. Other than that, trees work best to hook or tie your tent's ropes. Another tip for reducing the rain effect is positioning your tent's entrance in the opposite direction of the wind. This way, you can prevent windswept rain from entering your tent.
4. Keep Your Tent Dry
When camping in the rain, use a waterproof and weather-appropriate tent. There is a wide range of tents to choose from, whether camping in the sand dunes of Colorado, by the beach, or in the snow-covered mountains. Our favorite brands for waterproof camps include Coleman Dome Tent with Screen Room, MSR Hubba Hubba NX, and Eureka Copper Canyon tent.
Another way to protect your tent from unexpected rain is by using tarps. Tarps are waterproof and can protect your tent and your entire campsite setup, including tables, chairs, and cooking stations. Tie the rope attached to each corner of the tarp to the tree trunk. Ensure the tarps are not draping and secured tightly since loosely tied traps can flap in strong wind.
5. Pack Warm Clothes
Rain can cause a drop in temperature. It is important to pack warm clothes to avoid cold and retain body heat. Layering clothes is a great way for extra heat. You can layer clothes in the base, middle, and top levels. Your base layer is the undergarments and clothes that cling to your body.
The middle layer works as an insulator. Thick puffy jackets and fleece pants are excellent choices for this layer. At the same time, your top layer works as a protective barrier from wind and rain. Raincoats, ponchos, and waterproof jackets are included in the top layer.
6. Fire and Food
Camping trips are incomplete without a bonfire and food. However, rain can make your camping trip challenging. For bonfires, pack a waterproof lighter since matches might not work. Additionally, packing sealed fire starters is a clever tip for starting a campfire after rain.
Coking fresh camp food is fun, but it is better to pack pre-packed food and protein-rich snacks in rainy weather. Rain might continue overnight, and you don't want to skip meals and lose strength. Additionally, a portable gas grill is excellent rain gear to grill food in the rain
7. Rainy Camping Activates
Unexpected rain might slow down your hiking and trekking plans. However, activities like card and board games can turn the gloomy camping trip upside down. You can prepare a setup in the campsite using tarps and ropes. Add portables and battery-operated fairy lights to cozy up the place. Rain might be a great time to take a break from strenuous camping activities.
Our Final Thoughts
There you have it, a few tips on what to do when camping in the rain. Camping in the rain can delay your camping trip activities. However, preplanning and packing the right gear will help you survive camping in the rain and might even enjoy it.