A hammock is useful whether you are going on a camping trip on your own or with family and kids. Resting in a hammock, looking at the blue sky or across cliffs and rivers can be a mesmerizing experience for anyone.
However, tying up a hammock is not as easy as you might think. Many newcomers struggle to find the right spot or how to hang a camping hammock, which can ruin your experience. In this blog, we share a detailed guide on how to set up your hammock close to camp and take a siesta in style.
What You Will Need
The most obvious thing you need is the hammock. Make sure to choose a sturdy piece that is made from high quality material. The hammock should be comfortable and big enough to accommodate you. Many hammocks come with all the accessories with the set. However, you may need to buy an additional hardware kit and hanging accessories.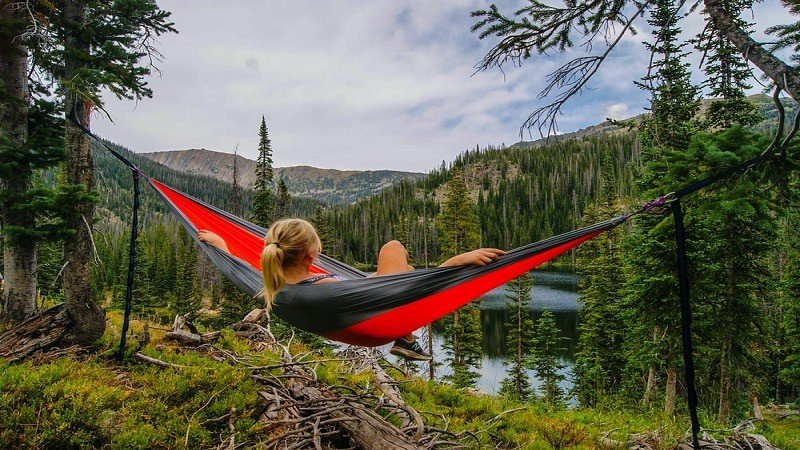 Camping Hammock
Hardware Kit
Hanging Accessories
Find a Suitable Place
You will need to find a suitable place to hang the hammock before anything else. Make sure to ask if the national or state park that you are going to actually allows the use of a hammock on site. Many parks and land management areas prohibit the use of hammocks for one reason or another.
Alternatively, you can find campgrounds that are specifically designed for hammock campers. Follow the steps listed below to choose the best place for setting up your hammock.
Get Camping Permission:Make sure that you are setting up your camp in an area where you are permitted to set up camp. Avoid setting up camp on protected or private lands and get a camping permit if one is required.
Set Up For a View: If you want to have a truly amazing experience then look for a spot that will give you a picturesque view from your hammock. You can find the best view on a mountain ridge or in a place overlooking streams and creeks. You can also set up the hammockwith an unobstructed view of the horizon to watch the sunset.
Hang it Close to Lighting and Shade:If you hang the hammock directly under the sunlight, it can get pretty hot and unbearable to rest in it during the day. On the other hand, if you hang it inside a cave, you may not get enough sunlight to enjoy the view. So hang it where you get both shade but enough lighting throughout the day.
Do Not Set the Hammock Close to Water: Always make sure to set up your hammockat a safe distance from water sources, even small streams. The water level can rise and fall throughout the day and you never know when flash floods may occur. Try to stay safe while hanging your hammock.
Stay in a Familiar Area: Do not set up camp in unfamiliar territory unless you are a seasoned camper or have come prepared for a difficult adventure with a compass, map, guide book, etc.
Do Not Hang the Hammockon a Trail: Your camping trip should not cause problems for other people, so do not hang your hammock in the middle of a trail for animals or other hikers. Not only will you end up obstructing their path, you will also keep getting disturbed over and over.
Hang the Hammock in a Safe Place:Do not hang your hammock close to the edge of the cliff, tall drop-off points or over jagged, sharp rocks. Keep in mind that the hammock is not unbreakable. If it becomes loose or breaks while you are resting inside, you could end up in a bad situation.
Setting Up the Hammock
Once you have the ideal location selected for the hammock, you will need to get down to setting it up. Choose the two anchors that the hammock will be tied to. Ideally these should be two tall trees that are about 12 to 15 feet apart.
Make sure that the trees are sturdy and firmly rooted. There have been many cases where the hammock was tied to a dead tree and the tree was uprooted while the campers were trying to take a nap in the hammock.
Next, identify the angle at which your hammock tree straps should be fixed. A 30-degree angle is good as it allows the sac to hang nicely.
You can find tree saver straps in the market that help reduce the stress on the trees. They are also more eco-friendly than zip tie cords. Ideally, the straps should be at least 1-inch wide. Thicker is better. Many parks require hammock straps to be closer to 2 inches in width.
The straps should be made from nylon or polyester that protects the tree bark from abrasion. Regular rope, cords and wire can dig into the bark and damage the layers of the tree.
Your strapping points should be around 6 feet high from the ground. This will give you enough clearance from the ground without lifting the hammock so high that you have to struggle to get in or out.
If the hammock has suspension cords, attach them to the tree. Once the straps are firmly secured to both anchor points, unfold the hammock, checking that it is dry and intact in the process. Set up any of the optional accessories including quilts, tarps, mosquito nets and sacks.
Your hammock should be good and ready for resting.
Our Final Thoughts
Setting up a camping hammock can be difficult when you are doing it for the first time. You may be left wondering how to hang a camping hammock correctly if you mess it up the first few times.
However, it is not too hard to set it up once you know the basics and have practiced setting it up.
If you follow the advice presented in this guide, you should be able get the hang of setting it up in no time and enjoy the great outdoors like never before!