Camping is one of the best ways to enjoy nature. There are many ways to ground yourself in your environment and find a new way to live. Camping is good for your mental and physical health. There are so many things that one must take care of when planning a camping trip. You have to ensure that you have clean drinking water and a way to defend yourself from animals and wildlife.
You would also have to take care of how you will feed yourself. Easy camping meals are necessary to nourish yourself properly on your camping trip. Many people find it difficult to know how to cook and prepare easy camping meals; however, it is not as complicated as it looks. In the article below, we are listing a variety of camping meals that will help you get through your camping timeline refreshed and thoroughly satiated with the food that you eat.
Easy Camping Meals To Make On The Go
One of the most challenging things while camping is knowing what to pack. When preparing camping meals, you don't always have the proper utensils and a whole food pantry. If you're camping for three or four days, you have to understand that you can't pack easily perishable things. That being said, we have listed a few easy camping meals to get you through any major problems that you may face in eating while you are camping.
Campfire Nachos
Nachos are the perfect bar food to go for. However, even during camping, it is an excellent option for you to whip up. The best part about camper nachos is that you don't require a lot of heating or cooking. You can make them from various canned ingredients and some Nacho chips. It's the perfect meal to whip up in a group and doesn't require much culinary experience to eat. To have a cheesy meal, you must use a pan and melt some cheese. However, even without this, your nachos are good to go for an easy camping meal.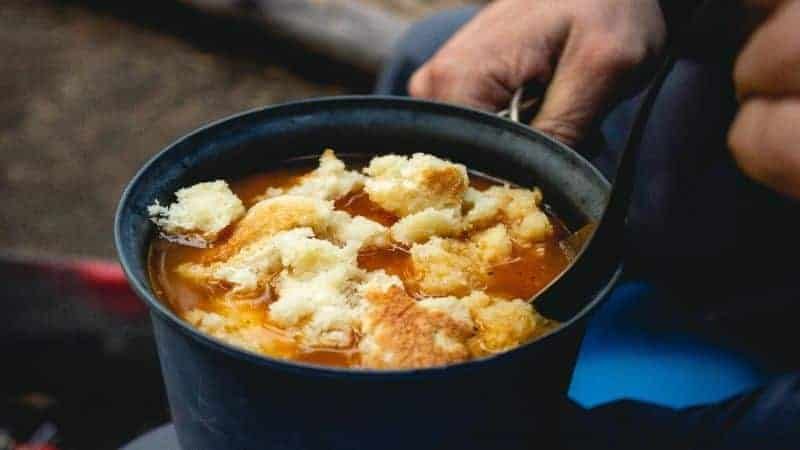 Campfire Scrambled Eggs
Scrambled eggs are a unique way to get some breakfast in your system before setting out for the day. These scrambled eggs don't require a lot of effort from your end. All you need are eggs, water, and butter. The butter will give the scrambled eggs the salty, umami taste that generally scrambled eggs don't have. If you don't have a butter cooler, many people use clarified butter, which works fine. You can make these eggs in a simple saucepan or any pan you have, and the result will be the same. Eat these scrambled eggs on their own or with some toast, and you'll be happy for the rest of the day.
Campfire Granola
Granola is one of the best things you can have on your camping trip, as it is not perishable. You could make granola at home before going to the campfire, but if you're in a place for a long time, you can also make it at the campfire. It doesn't have to be bland; you can add your range of flavors and textures. If you have nuts, add this to your saucepan. Once you feel like they're appropriately roasted, you can add the rolled oats. Slowly allow these to cook until the whole mixture becomes brown and nutty.
You can then take the pan off the heat, add some Maple syrup if you have it and then add dried fruits to it and serve. These can make a whole bowl of campfire granola you can share with the group.
Banana Bread
banana bread is one of those snacks that you can make in bulk and store in your fridge. The little cooler you're carrying around with you can easily store banana bread so that you have something on hand that you don't have to prepare. If you're carrying around some peanut butter, slap that onto your banana bread, and you have a protein-packed snack to eat. You can also easily make this banana bread in a skillet over a campfire if that's what you require.
Shrimp Foils
If you have frozen shrimp and Smokey sausage lying around, you can scrunch these up in aluminum foil and cook them over the fire. Buttery corn and other vegetables will also go easy with this meal. You won't have to clean anything. There's also not a lot of preparation that goes into a meal like this. You must prepare the shrimp and shuck the corn to get rid of the leaves. Break these down into smaller bits and make packets out of a combination. Once you do that, you can wrap them up in foil and place them over the fire. Just like that, you have an easy campfire meal.
Cheese and Bacon Monkey Bread
Suppose you want something buttery, cheesy, and to die for, the new need to break this bacon and cheese monkey bread on your next camping trip. You will need dinner rolls, butter, bacon, and cheese. You can make this in a skillet or a Dutch oven. You're going to let the dinner rolls thaw but remain cold. Put the rolls in the Dutch oven and pour the melted butter over them. Next, you can add bacon and cheese to the tops of the rolls. The quantity of it depends on you. Cover the skillet or Dutch oven so that it can cook. Let it rise until the size has doubled. Once this happens, you can let the rolls bake for around 30 minutes. When done, you can remove them from the heat and enjoy the meal.
Pepperoni Pizza
You will need bread, butter, mozzarella cheese, pepperoni, and marinara sauce. You could even pack some leftover port pizza and grill it over the compare. However, the recipe gives you a much fresher flavor of that pizza. You would start the way that you would start a regular grilled cheese. Take the butter, spread it onto the bread put that face down on a skillet. Then add a slice of mozzarella, some pepperoni, and then some more cheese as per your preference. Then add the other slice making sure that the buttered side is up. Toast the bread for four minutes or until you find that it is golden and crispy. Flip the bread and cook it until it's completely melted.
Final Thoughts
There are many different easy camping meals you can make to enjoy your time in nature. However, the easiest camping meals are the ones that require minor ingredients and the least amount of time to prepare. You want to ensure that you do not have to carry any perishables with you and that eating and preparing your meals does not consume too much of your camping time.