After a long day of camping, the one thing on everyone's mind is dinner. However, some camping ideas are much easier than the rest.  You don't always want to spend a lot of time making dinner and preparing the necessary ingredients as you're already tired. Therefore, you need something quick to prepare and eat. If you're camping with kids, your dinner ideas must be fun, yummy, and easy to make. Your kids will not wait long before they start to get restless and demand dinner.
If you struggle with camping dinner ideas, look no further as we explain some of the easiest ways and recipes you can surf to your family after an extended camping trip stop.
Tortellini and Sausage Soup
After hiking for hours, you likely want to sit down with a bowl of hot soup. However, soup isn't very filling, so that you would need something rich and full of carbs. Frozen cheese tortellini are easy to come by in any of the local shops that you visit. You can add frozen sausage along with these tortellini and cook a soup that will warm you to your so. It is easy to bring this kind of soup together; it tastes much better than any other suit you might have. If your children are not big fans of soup, you can always single out the tortellini and sausage so they can have them all of you. The broth can help if you're camping at night, as it adds a layer of warmth to your body.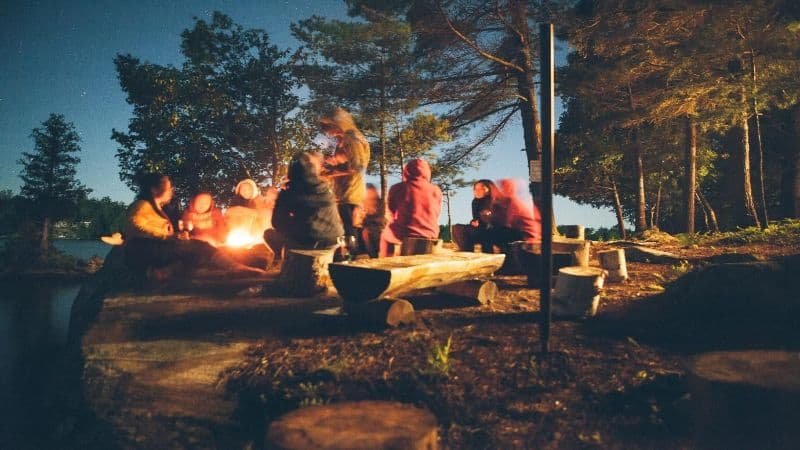 Chicken Tzatziki Skewers
if you want food on the go, even for dinner, then these tzatziki skewers are the best way to feed yourself. They're inspired by Greek tzatziki sauce. The best thing about these skewers is that they can add any kind of protein. They're also straightforward to prepare; you must add meat and vegetables to the skewers and roast them at low heat. The vegetables don't even require a lot of seasoning. Roasting them over an open fire can give them a smoky flavor that you will die for. If you want, you can always make a tzatziki sauce to pair the skewers with.
Chicken Tacos
All you need for tacos are Taco shells, some sort of protein, and vegetables to go along with them. You don't have to worry if you don't have suitable vegetables. Sauces and protein worked just fine. If you have chicken, then you can offer chicken tacos. You can use that leftover meat if you have fish from the lake. Make sure to have some acidity in there, along with a sauce. Adding these extra ingredients to sauces can make you feel like the tacos nourish you thoroughly. The best part about tacos is that you can make a whole Taco station near your camp so everyone interested can make them all on their own. It's a fun activity for the entire camp to get in on, and it doesn't require much time. The only preparation you would need would be cutting vegetables and grilling the protein.
Chicken Pineapple Kabobs
These kebabs had the same principle as the Tzatziki skewers. However, they are much easier to prepare. All you need is some chicken, canned pieces of pineapple, and onions to complete the kabobs. All you have to do is place the ingredients on top of the skewers and allow the high heat to cook them. You generally want to pair these with some tropical flavor to have something bright to bite into after a long camping day.
Shrimp Foil Packets
One of the easiest things to prepare is this foil packet. For this recipe, you will need various strips of aluminum foil. Add shrimp, sausage, and corn to these foils and scrunch them up. Then you would place these foils aren't you a grill, on top of the campfire. Let these foils cook the shrimp as well as the corn. Keep on checking until everything is perfectly cooked. When it's done, you must open up the foil and dig your fork to have your life's dinner. These are easy to prepare as you need to break down the corn and the sausage into smaller pieces. You can season the food with black pepper and salt. Many people add more vegetables to the foil, which you can easily do to get a foil pot of perfectly grilled foods.
One Pot Pasta Primavera
For this pasta, you would only need one pot or one skillet. It has many vegetables and comes with a creamy, cheesy sauce. The recipe is simple, and you only need to sautee some zucchini, cherry tomatoes, and any other vegetable of your liking. Once this is started, you can set it apart and add pasta to your skillet. Cover this pasta with water so it can boil in its own time. Once the pasta is cooked, you will mix the sauteed vegetables with goat cheese and some lemon juice. The goat cheese and pasta water interact together to complete a sauce that will evenly coat the pasta and the vegetables. You can then serve this pasta dish to your dinner party.
Sausages and Potatoes
If you have sausages in your freezer, take them out and grill them. Once these are grilled, take pieces of foil and add potato cubes and the grilled sausage to these foil pieces. You can then seal the pieces of foil and let the grilled sausage and potato cubes cook. This recipe is one of the easiest things for you to make. It doesn't require a lot of time or effort. You only need to season the food, and voila! It's ready for your consumption. The simplicity of this dish makes it a delight to eat and prepare.
Final Thoughts
You mustensure that the food is easy to prepare and clean up as you can't leave out the food. Doing so will attract all sorts of creatures to your campsite, and that's the last thing you want.