Whether it is exploring a cave, trekking through the woods at night, or just trying to find your stuff around the camp, bringing a camping light with you for the trip can be essential. Of course, with there being so many options out there in the market, it can be a daunting task to find the one that is just right for your particular needs.
In a Hurry? Here are Our Top Choices
The 5 Best Camping Lights for Tents
For your convenience, we did the research so you don't have to, and have written this guide to help you choose the best camping lights for tents and outdoor camping.
1. Streamlight Super Siege
One of the best camping lights for tents is the Streamlight Super Siege. Its biggest draw is its extreme durability. The lantern is impact resistance and waterproof. Additionally, it is also very lightweight for easy portability. The camping lantern features six output modes – three for general use, and three red lights for emergency functions. The lantern contains a heavy-duty rechargeable battery that can last for up to 3 days of continuous use.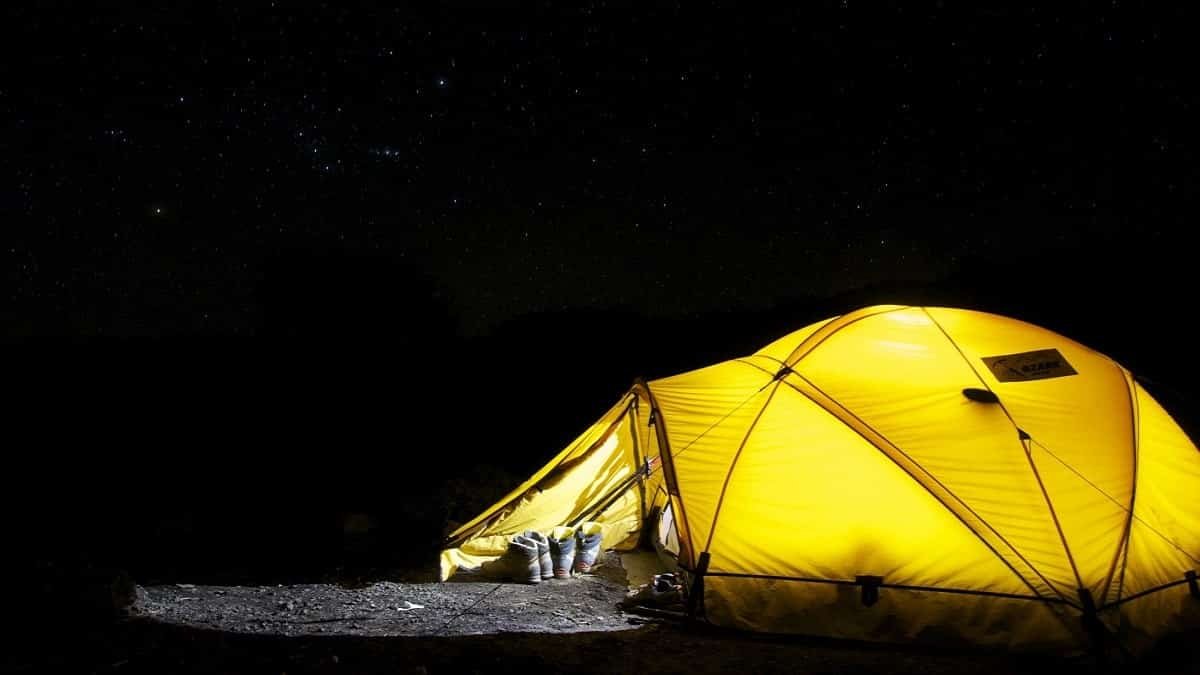 The Super Siege also doubles as a power bank for charging your phone or other small electronic devices. Additionally, it comes with a small watertight storage compartment that can be useful for storing tinder, matches, and other emergency items. The only major drawback it has is the high price, but the manufacturers also guarantee a limited lifetime warranty with the purchase. Overall, it is our top pick for the outstanding value and functionality it provides.
Pros
Extremely rugged waterproof design
Floats on water
Multiple light modes
Great color options
Anti-glare cover
Limited Lifetime warranty
A nice water-tight storage compartment
Doubles as a power bank
Cons
2. Coleman Twin LED
Coleman is a well-known brand with a reputation for providing practical outdoors equipment. Coleman's Twin LED lantern is no different. Thanks to its amazingly energy-efficient LEDs, the camping light boasts an incredible run-time. On the max setting, the lamp can last for up to 3 days, while on the lowest setting the duration is an astonishing 12 days! Rather than just three fixed brightness settings, the brightness adjustability is continuous (100 to 390 lumens).
The lamp is also water-resistant, but we wouldn't recommend testing its very limits by completely submerging it in water. Our biggest gripe with the product is that  the lamp can be a bit heavy to carry around for outdoor use, due to the 8 "D" batteries it requires.
Pros
Long beam distance
Long-lasting run time
Water-resistant
Diffused light is easy on the eyes.
5-year warranty
Cons
Bulky
Batteries are sold separately
3. Black Diamond Moji Lantern
While the Black Diamond Moji Lantern may not be the brightest or boast the most functions, its appeal lies in it providing an outstanding return on value relative to its low price. The lamp's built-quality is excellent. It is durable enough to withstand some abuse and features a decent level of waterproofing. Thanks to its lightweight and compact design, this outdoor lamp is also extremely portable. It is small enough to fit in your pocket, thus, also making it an excellent choice for solo campers.
This tiny lantern works best as a night lamp, giving out soft ambient lighting that is never harsh on the eyes. However, what we particularly like about this lantern is its dimming memory feature. It remembers the last setting you turned it off on, and retains the same brightness setting when you turn it on again.
Pros
Super affordable price
Great color options
Very portable and lightweight
Compact, durable design
Decent water-resistance
'Memory' setting
Cons
Not very bright
Batteries sold separately
4. Suaoki Collapsible Tent LED
Yes, there are many more compact options out there. However, the Suaoki Collapsible Tent LED lamp wins gold in this category for its solar charging capability, great price, and smart safety features. Weighing in just 0.37 lbs and featuring foldable lights, you can easily carry this lamp anywhere with you on any outdoor trip. The lamp can be charged in two ways – with a USB cable, or by harnessing the power of the sun with its three in-built solar panels. Another big plus is its smart safety features, which protect the lamp from overcharging, over-discharging, and short-circuiting.
However, there are two major drawbacks worth mentioning. The first is the extremely short runtime. The compact, lightweight design comes as a compromise to its battery size. As such, even on low settings, this lamp only lasts a few hours. The second is that the overall design is a bit flimsy, especially the foldable 'wings', which are vulnerable to breaking off.
Pros
Affordable price
Solar charged
Highly portable and lightweight
Smart protection features
Cons
Extremely short run time
Design choice makes it vulnerable to breaking
5. UST 30-Day Duro
For camping trips to the remotest or riskiest of places, it helps to have a reliable camping lantern that doesn't give out in case of emergency. The Ultimate Survival Technologies 30-Day Duro is built just for such purposes. Its battery life is almost unmatched. As implied by its name, this rugged camping light can last up to 30 days of continuous use on just three "D" cell batteries.
However, it should be noted that this run-time is achieved in the lowest setting, and the light it gives out is not exactly that bright (around 30 lumens). Still, carrying a dim light is better than being at the mercy of darkness while out in the woods. The lamp's body is both impact- and weather-resistant and glows in the dark for easy spotting when not turned on.
We do have two, albeit minor, complaints about this otherwise great emergency camping light. First, for an emergency lamp, it features no red light option, and second, battery replacement is unreasonably difficult on this lantern.
Pros
Rugged, weatherproof design
Glows in the dark
Unmatched runtime
Lightweight and portable
Cons
No red light option
Difficult to put batteries in
Our Final Thoughts
There are multiple factors we need to consider when choosing the best camping lights for tents. For one, they should be compact and lightweight enough for easy portability. Conditions in the outdoors can be unpredictable, and hence, the best camping lights for tents should also have features like weather-proofing and enhanced durability to ensure its reliability should the worst happen. Of course, the camping lights mentioned on our guide also stand out in terms of the many extra features that they provide, expanding their versatility in usage.
From long-lasting emergency lights to highly portable pocket-sized lamps, we have just the right camping lights listed for almost everyone. Regardless of the camping light, you decide to choose from our list, you won't end up being disappointed with the purchase.