For those who often wonder what is a yurt camping: yurts are giant, portable, circular tents that could be simple or luxurious depending on what you need. Yurts have been a distinctive feature of life in Central Asia for at least three thousand years.
Today's modern yurts are round structures usually made with a latticed frame of wood or other durable material. Weatherproofed canvas or fabric covers the frame and is strapped to it and the structure's foundation to insulate and secure the yurt.
What is Yurt Camping?
Campsites are usually supplied with a picnic table and grill or fire pit for cooking since fires are generally not safe within the yurt. Most yurts have unique features like running water, a bathroom with a shower, TV, and even hot tubs.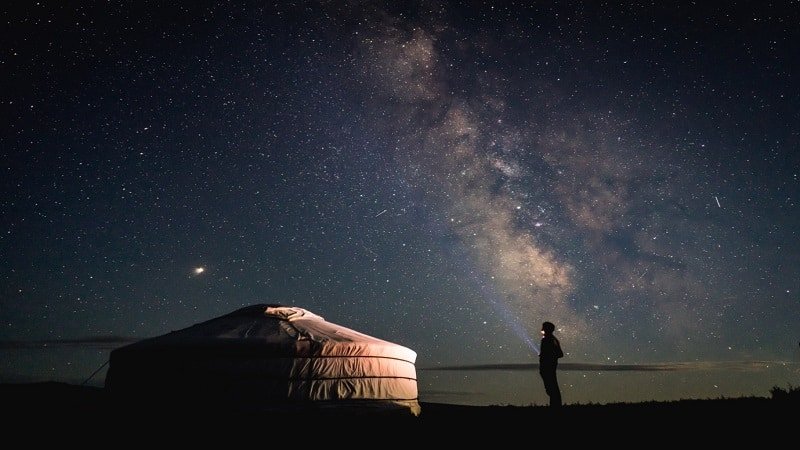 This guide will help you understand the main differences between a tent and yurt camping, along with providing you five tips to help make your yurt camping experience a memorable one.
What You'll Need for Yurt Camping
The things you choose to take depend on how luxurious or straightforward your Yurt camping is. However, this standard list of essentials is one that you might need.
Flashlight
Water bottle
First aid kit
Bug Spray
Cooler
What is Yurt Camping?
Yurts are more affordable, closer to nature, and more exciting than staying in an RV or hotel. It is a step up from the standard tent because it offers more room and sometimes more amenities. The beauty of choosing a yurt as your base station is that you can go high-end or straightforward, depending on your needs.
How is Yurt Camping Different from Tent Camping?
A yurt camping experience offers less stress and hassle than tent camping. You don't need to pack as much stuff for a yurt camping as you leave your tent and air bed at home. Once you arrive at your yurt, you get the ease of unloading all your stuff and resting immediately.
Packing the basics such as linens, food, cooking equipment, and utensils is a must. Apart from that, there is no need to set up your yurt campsite as everything is already arranged for you. It is far more comfortable sleeping on the mattress than on a tent floor.
It provides you the same exposure and closeness to nature that you get when tent camping. The only thing that a yurt slightly lessens are the sounds and smells. The insulating materials used in a yurt help keep warmth inside much more effectively than a tent. The best part about a yurt is the central skylight in the middle of the dome. It is the best way of getting sunlight and moonlight naturally in the room.
5 Tips for Camping in a Yurt
If you wish to have the best modern yurt adventure ever, here are five tips to help you do that.
Keep Extra Clothing At All Times
Since modern yurt camping doesn't require you to carry along much, you can easily keep with you additional pair of clothing so that you're comfortable at all times.
It may be warm inside the yurt but very chilly outside. To avoid getting sick, it is advised to keep extra layers to add layers or take away as per your liking.
Have a Fire Starter Handy
Even though modern yurts have a proper setup, it all depends on the type of yurt camping you've opted for. If you're going all simple, chances are when you cook outside on the grill or use a fire ring; you will need to set up your fire.
In this scenario, a fire starter will come in handy. It is also great when you decide to light up a bonfire for the night.
Carry Your Flashlight or Lantern
Even though almost all yurts are powered by electricity, there are chances that the power might go out. Just to be safe, a flashlight or lantern is essential to keep.
It is also best for all the uncalled-for adventures that you will enjoy each day, allowing you to get through the dark quickly. No matter what the experience, a flashlight or a lantern is a must-have.
Don't Forget the Bug Spray
The greater the adventures, the more significant the threat of bugs and insects. The biting and stinging are what you need to avoid as they can lead to illness at worst.
Whether you're hiking or camping, a bug spray is an essential purchase to make sure your time in the outdoors is spent itch-free.
Don't Neglect Self-Care
Keeping the bare minimum does not mean skipping items out of your self-care and basic hygiene essentials. Regardless of what time you're going for, ensuring a comfortable, safe and enjoyable yurt camping experience, you must keep with you the essential basics such as your sunscreen, medications, first aid kit, and toiletry kit. It will allow you to feel clean and safe at all times.
Our Final Thoughts
It doesn't matter where you live or want to go; yurt camping is available all year round. The benefit of a modern-day yurt is that they are well-made and weather-tight. These yurts can stand against heavy snow loads, pouring rains, and harsh winds.
Along with that, the yurts today are well insulated. They will keep you and your loved ones comfy and warm throughout the night. If you're thinking of switching your camping routine this time, yurt camping is a great option to consider.